Punch Taverns to sell pubs and split business in two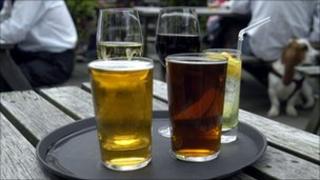 Punch Taverns is to split its business in two and sell thousands of pubs as part of a major overhaul of the firm.
Punch, the UK's biggest pubs group, said it would split its managed and leased pub operations to create two new public companies.
The size of the leased business will be halved to about 3,000 pubs.
The managed side will be named Spirit, with some pubs changed to existing brands such as Chef & Brewer, Fayre & Square and Flaming Grill.
Punch Taverns has been struggling with falling profits and rising debt, which hit £3.3bn last year.
Its shares rose 4% following the announcement, and ended the day 2.3% higher.
'Radical'
It said that its managed pubs, which are run directly by the company, had lower sales and profit margins than their competitors.
But it said it was well-placed to capitalise on the strong growth in eating out.
The leased side, in which landlords rent the pub and get their supplies from Punch, was facing more difficult conditions, it said. It will suffer the bulk of the cuts.
It has suffered double-digit declines in profits for the past two years and is more reliant on the declining drinking-out market.
"We need a more radical approach, targeting a core estate of around 3,000 pubs over the next five years," Punch said.
It currently has just under 6,000 leased, or tenanted, pubs. More than 2,000 will be sold at a rate of about 500 a year.
Some will transfer from leased to managed as part of the Spirit business, which will expand to just under 1,000 pubs.
'Walkaway'
Punch's bondholders expressed disappointment in the outcome of Punch's strategic review, saying that the proposed split failed to deal with the key issue of turning around its poor trading results.
"We remain concerned to see the real issues in the operating businesses addressed fast," said a spokesman for a special committee of the company's creditors.
"We have waited six months for the review to be conducted, during which time operational performance in the leased estate, where bondholders have £2.5bn at risk, has continued to decline."
The company restructuring merely enabled a "walkaway" by another part of the business, he added.