Japan's Nikkei rises as fears of nuclear meltdown ease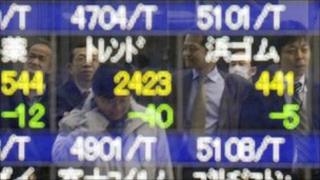 Stock markets clawed back some of their recent losses, with Japan's benchmark index of leading shares jumping 4.4%.
Other Asian stock markets also rose in relief that progress is being made in containing radiation leaks at the Fukushima Daiichi nuclear plant.
The oil price eased back, with Brent crude down 14 cents at $114.82 a barrel, but is still near recent highs.
Stock markets were also buoyed by news that Japanese carmakers may restart production this week.
The earthquake and tsunami has halted operations raising concerns about profits at the companies being hit.
There were initial hopes that Toyota and Honda would restart production on Tuesday, though this has now been delayed, possibly until the end of the week.
Shares in Nissan Motors rose by 1% after the company said it had started production at six of its factories on Monday.
After a 1.5% rise in shares on Wall Street, stock markets in Europe were predicted to open slightly higher, continuing Monday's "relief rally".
But analysts said that, even if the situation in Japan was showing progress, an escalation of the conflict in Libya could send markets into retreat again.
'Under control'
Japanese stocks fell sharply in the wake of the devastation caused by the earthquake and tsunami.
The fall was due to the massive loss to the economy and the uncertainty about the prospect of a meltdown at the Fukushima Daiichi nuclear plant.
Analysts say, as authorities get closer to containing radiation leaks, the markets are calming down.
"People are getting a bit more relaxed," said Martin Angel of Patersons Securities.
"The Japan situation seems to be getting under control and it is a case for rebuilding now," he added.