US Treasury to sell $142bn of mortgage assets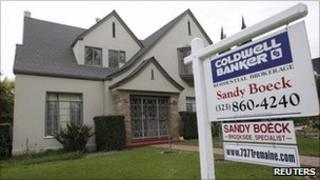 The US Treasury has said it will start selling off $142bn (£87bn) worth of mortgage-backed securities that it bought during the financial crisis.
It said it would look to sell up to $10bn worth every month and expected to generate a profit of between $15bn and $20bn from the sales.
The money will help to reduce the government's high budget deficit.
The Treasury bought the securities in 2008 and 2009 as part of its attempts to combat the financial crisis.
"We're continuing to wind down the emergency programmes that were put in place in 2008 and 2009 to help restore market stability, and the sale of these securities is consistent with that effort," said assistant treasury secretary for financial markets Mary Miller.
"We will exit this investment at a gradual and orderly pace to maximise the recovery of taxpayer dollars and help protect the process of repair of the housing market."
The government stepped in to buy the mortgage-backed securities when investors began to lose confidence in the instruments when the housing market slumped during the financial crisis.
The housing market is still fragile in the US, with figures released on Monday showing a fall in existing home sales in February of 9.6% compared with the previous month.