Microsoft sues Barnes & Noble over Nook e-book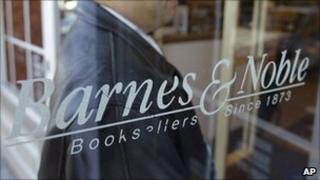 Technology giant Microsoft has sued Barnes & Noble, alleging the US bookseller's electronic book reader Nook infringes its patents.
Microsoft claims the device, which runs on Google's Android operating system, infringes various patents, including those concerning navigation software.
It is also suing electronics manufacturers Inventec and Foxconn International.
The lawsuit was filed in the US District Court in Seattle, Washington.
"The Android platform infringes a number of Microsoft's patents, and companies manufacturing and shipping Android devices must respect our intellectual property rights," said Horacio Gutierrez, deputy general counsel of Microsoft's intellectual property and licensing.
"We have tried for over a year to reach licensing agreements with Barnes & Noble, Foxconn and Inventec. Their refusals to take licenses leave us no choice but to bring legal action to defend our innovations."
Barnes & Noble, the biggest bookseller in the US, has invested heavily in its Nook e-book in an attempt to gain ground on market leader Amazon and its Kindle reader, and to fight off increased competition from supermarkets and online retailers.