Japan quake to hit supply of Nokia mobile phones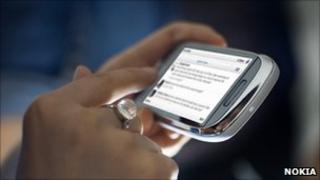 Nokia, the world's largest mobile phone maker, has said it expects Japan's earthquake and tsunami to disrupt the supply of some of its products.
Many companies are facing supply problems after component factories in Japan shut down after the disaster.
However, Nokia said it did not expect the disruption to have any significant impact on its profits in the first three months of this year.
The firm said it was looking at alternative sources for components.
Companies that were forced to close factories in the immediate aftermath of the quake included electronics giant Sony and carmakers Toyota, Nissan and Honda.
As a result, Nokia rival Sony Ericsson has already said that it faces supply chain issues.
'Vulnerable'
"Although a complete picture is not available, Nokia expects some disruption to the ability of its Devices & Services unit to supply a number of products due to the currently anticipated industry-wide shortage of relevant components and raw materials sourced from Japan," Nokia said in a statement.
"However, Nokia does not expect any material impact on its first quarter 2011 results due to this event," it added.
Analysts said the company could be hit harder than other mobile phone makers by Japanese supply issues.
"The sheer number of phones it sells means it is likely more vulnerable to unexpected disruptions to component supply than rivals," Ben Wood at CCS Insight.
He added that the timing of the disruption was particularly bad.
Last month, Nokia announced it was joining forces with Microsoft in an attempt to catch up with rivals that have been far more successful in launching smartphones.
This came days after chief executive Stephen Elop sent a memo to staff warning that the company was in crisis, in which he said the company was standing on a "burning platform".