Bank of England confirms £5 note injection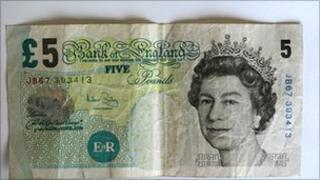 An injection of quality £5 notes through ATMs to improve the mix of cash available to consumers has been confirmed by the Bank of England.
The 10 largest cash machine operators have committed to increase the frequency of fivers in place of higher denomination notes.
About 10% to 15% of their machines will be altered to dispense £5 notes.
Last week, the BBC revealed that fewer than 3% of UK cash machines dispense the smallest denomination notes.
Plans
In a speech to the Currency Cycle Conference in Barcelona on Monday, the head of the Bank's notes division, Victoria Cleland, said it was monitoring a plan to improve the quality and availability of £5 notes.
Many £5 notes have become grubby and torn, because they change hands more frequently and do not return for sorting as much as other notes.
More than 70% of banknotes initially reach the public via the UK's 63,000 cash machines, from which £20 notes dominate.
Now the ATM operators will:
Select which machines can be loaded with £5 notes without having to be refilled more frequently
Update software and other processes to calculate the number of £5 notes to dispense
Change machines to fit cassettes to carry £5 notes.
"In time, we hope a virtuous circle will develop. As more £5 notes are acquired by the public, those in circulation should be fitness-sorted more frequently," Ms Cleland said.
"As the poor-quality £5s are removed, the average quality of the £5s in people's wallet or purse should improve."
She warned that the change would not happen overnight.
"There is no doubt that the public welcome the changes that have taken place so far and over the coming months, the fiver should start to look as familiar - and as smart - as our other denominations," she said.
Meanwhile, Lloyds TSB has become the latest bank to offer the opportunity to customers to make cashless payments.
Replacement debit cards will allow cardholders to spend up to £15 by pressing their card to a sensor - known as a "contactless payment" - rather than entering a Pin.
Contactless cards will be sent automatically to those who live within the M25 motorway when their current card expires, and to other customers who request this type of card.