Sport and business team up for social change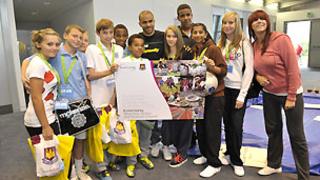 Sport and corporate social responsibility is an idea that has been fighting to establish itself in the past few years.
It emerged as a theme in the latter part of the last decade, as sport and business found ways to work together towards social change. But the concept was in danger of being stopped in its tracks by the global economic downturn.
At the same time, for those projects that did manage to get off the ground, there was the danger of cynics seeing them as a cheaper option to traditional forms of sport sponsorship.
However, there is now a feeling that sport and CSR is moving close to the heart of the sponsorship agenda in its own right. Sport, firms involved in sport business, worthwhile social projects - all are looking to come closer together.
'Growing relationships'
"With the London 2012 Olympic Games a year away, and the legacy issues surrounding that event, the subject is obviously a very topical one," says Keir Gordon, of sports law practice Charles Russell, whose clients include Manchester United, Bolton Wanderers and Mercedes.
"What is clear to us, in our work in sport and with corporate clients, is that the relationship between sport and business around corporate social responsibility projects is a growing area."
And all participants are agreed that it is about more than simply giving money.
One project has seen car giant Ford working with UK football anti-racism campaign Kick It Out, engaging young people around the company's plant at Dagenham, outside London.
The partnership, which aims to educate young people around the east of London on diversity and other issues, enjoys the involvement of current and former players such as Luther Blissett, Kieron Dyer and Bobby Barnes.
'Power for change'
Heading up Kick It Out's side of things is former Aston Villa, Celtic, Pisa, Charlton, Luton and Chelsea player Paul Elliott.
"Our campaign is about using the power of football to make meaningful, sustainable change," Mr Elliott told a Sport Business Group conference discussing Sport and Social Responsibility.
"Sport is finally realising how important corporate social responsibility projects are."
He said that in the past two years, there had been 25,000 community visits by footballers, including anti-racism projects and visits to prisons.
"Football is a powerful brand for change, not just in the short and medium term, but in the long term," says Mr Elliott.
"A partnership with the right brand, such as Ford, was very important to us. We don't want to be associated with brands which just talk about CSR, but with ones who want to align their own objectives alongside ours."
Every year Ford, which has been a Champions League sponsor since its inception in 1992, and Kick It Out hold a number of events, promoting a message of "respect, inclusion and diversity" to youngsters.
"It is absolutely something that we still want to commit to, and we have remained committed through some challenging times in the past, and will be no doubt in the future," says Mitra Janes, diversity and inclusion manager of Ford.
"But there are lots of different ways that we can reach out to our communities - through giving up our own time as employees and volunteering to help a whole range of institutions.
"It is not just about handing over cash, it is about touching as many different people in as many different ways in the communities in which we operate."
New model
Another organisation that supports projects using sport's potential to improve lives is Beyond Sport, which aims to facilitate relationships between sports projects and business backers.
In fact, its raison d'etre is to raise money and services from corporations around the globe, which are then awarded to projects Beyond Sport deems the most suitable.
Partners include Barclays, Time magazine, United airline, Unicef, Price Waterhouse Coopers and Heidrick & Struggles.
Beyond Sport will back seven community projects around the globe each year, and it estimates the packages can each be worth approximately $200,000 when the services element is taken into account, although the cash element comes in at about $15,000.
"I think this model of sponsorship, with a social element, will be the model of sport sponsorship over the next 20 years," says the man behind Beyond Sport, Nick Keller.
"I don't think we will see many blue-chip brands take up sponsorship in future without a social element.
"Sport, and sport for development, offers a corporate social responsibility vehicle that allows brands to market themselves in a different way."
He says firms involved, such as PWC, which is in the process of supporting a number of Beyond Sport initiatives around the world, can see benefits for their staff too.
And the 40-year-old former rugby player agent denies the CSR strand has vanished off the agenda, saying it has, if anything, become stronger in the past few years.
"Brands are now looking to engage employees, shareholders, clients and customers, in a more serious discourse about wider engagement with society," he insists.
"This is not just about charity, or corporate giving - it is good business to do 'good business'."
'Thriving projects'
For the winning projects, he says, there is an increased profile, networking potential, confidence and business expertise.
"We are not there to help the projects survive, we are there to help them thrive," adds Mr Keller, who set up the broader Sport Industry Group business in 2001.
"Projects have to have been running for two years before we back them, apart from the new best new project category, where projects have to have been running for a year.
"We are looking for self-starting leadership, people who have started things up on their own."
Beyond Sport is looking to establish three hubs for its work, in the UK, South Africa, and US - where it is supported by major sporting bodies, including the MLB, NBA, WNBA, NFL, NHL, MLS and USOC.
"We take an emotive area of society - sport - and the issues of the times - social exclusion, conflict resolution, health and education - and act to bring these different partners, from sport, business and philanthropy, together under one roof," says Mr Keller.