BT to increase call charges by 9%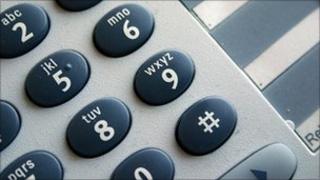 Telecoms giant BT has said it will raise call charges by 9% and increase its monthly standard line rental charge by 30 pence from 28 April.
The cost of UK landline calls will go up from 7p a minute to 7.6p a minute.
Customers are being informed of the changes by letter, although some with specific packages will not be subject to the price increases.
BT increased its call charges by 10% and its line rental by 50p in October last year.
'Never welcome'
Customers on BT Basic or Line Rental Saver contracts will not have to pay the higher line rental charge, while those on BT Basic and the Light User Scheme will not be subject to higher call charges.
The company is also increasing the cost of its Call Minder service from £2.60 to £3 a month.
BT said the impact of the rise in call charges would be "minimal".
It added that it was happy to discuss plans with customers to save them money.
"Millions of people have signed up to our Unlimited Anytime Plan in the last year and 75% of UK landline calls on our network are now free," it said.
In the letter to customers, BT said it "appreciated that price rises are never welcome", and so was reducing the price of some products and services.
For example, it said, BT Vision would now cost £12.50 a month.