UK solar panel subsidies slashed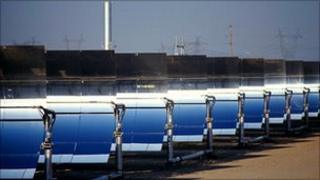 The UK government has proposed cuts of up to 70% to the feed in tariff for large scale solar energy production.
The proposal would be implemented on the 1 August, reducing payments to farmers or owners of large commercial buildings.
The industry has reacted with anger to the proposal.
And investors have warned that cutting the scheme just a year after it was created will deter further investment in renewable energy.
"The whole investor market was totally disengaged as a result of the feed in tariff being ripped up," said Ben Warren, partner with Ernst and Young, a consultancy.
'Absolute disaster'
According to the government's proposal, which is subject to consultation, payments for any solar installation over about 50kW would be reduced.
The full reduction would apply to installations from 250kW to 5MW - the standard size for a farm based scheme.
"It's an absolute disaster," said Ray Noble, solar specialist at the Renewable Energy Association.
"No new projects will start after this comes into effect."
The tariff had not been due to be reviewed until 2013.
'Fast-falling costs'
The new scheme is designed to preserve funds, which come from consumer bills, for schemes on domestic roofs.
These tend to be more expensive and generally need greater subsidies.
Climate change minister Greg Baker said the new tariff will be on a par with subsidies paid for large scale offshore wind.
"I want to make sure that we capture the benefits of fast-falling costs in solar technology to allow even more homes to benefit, rather than see that money go in bumper profits to a small number of big investors," he said.
The emphasis on small scale installations is likely to reduce the total amount of energy generated from the scheme whilst encouraging public engagement in renewable energy.