Fuel costs 'push up car-sharing'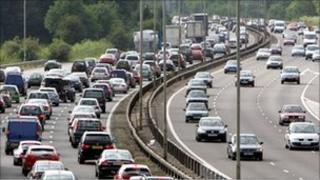 The high price of fuel may be persuading tens of thousands more people to change their trip to work - by sharing the driving duties.
One car-sharing website said it had seen a 23% increase in the number of people signing up to its scheme since the start of the year.
Those who do share lifts with other people are being told they can save up to £2,000 a year in fuel costs and help prevent pollution.
More than 90% of commuter cars carry a single occupant.
So as many as 16,000 cars may have been taken off the road each weekday as a result of lift-sharing, according to one driver-matching website.
Savings
Jane Kessell drives to work at Heathrow Airport every day and has been car-sharing for a number of years.
Her employer, BAA, matched her up with a colleague who lives nearby.
They drive the half-hour journey together each morning and home again in the evening.
"It is about £80 a month that I can save at the moment, and obviously with the price of fuel going up, I am saving even more," she said.
Both she and her lift-buddy, Steven Clements, have had to make sacrifices to make sure they can travel together.
They had to alter their shift patterns and have to travel to and from different terminals at Heathrow to meet up.
All of that means they waste up to 40 minutes a day.
"But what is half an hour, when you are saving £80 a month?" said Mr Clements.
Interest
Websites that co-ordinate lift-sharing report an upsurge in interest, particularly since January.
That was when VAT was increased to 20%, coinciding with the rise in fuel prices to record levels.
One of the biggest car-sharing websites, Liftshare, now has more than 400,000 members.
The site was originally founded by a student.
"More and more people are needing to car-share at the moment," said company spokeswoman, Cecilia Bromley-Martin.
"With the rapid rise in petrol prices, we have seen a 23% increase in the number of people signing up since the beginning of the year."
Another site, Rideshare, began in Germany, but found that so many people wanted lifts to other countries, it spread to the UK, France, Spain and Italy. In total it has 1.5 million members.
"Traffic is increasing in every country. There was a particularly noticeable increase last month," said spokeswoman Odile Beniflah.
Choices
One early issue that can arise with a new lift-buddy is the choice of music or radio station.
Those who like to listen to rap music may not enjoy listening to Thought For The Day on BBC Radio 4's Today programme.
But for those who persevere, there can be great social benefits.
Lift-sharers Jane and Steven, for example, have redefined the meaning of the phrase "picking somebody up".
Because it is not only lifts they are sharing now, but a house as well.
The two of them are getting married in October.