Australia mulls contentious carbon tax to cut emissions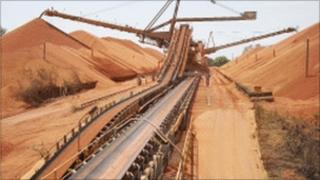 Australia's Labor government is grappling with potentially combustible plans to introduce a carbon tax as part of efforts to cut emissions of greenhouse gases.
After the basic framework of the proposal was announced, public support for Julia Gillard's administration collapsed to historic lows, weighed down by concerns about rising household energy bills.
Voters were baring their teeth at a prime minister who promised before last August's election that her party had no intention of pursuing a pollution tax.
Change of heart
Citing the realities of minority government, Ms Gillard now wants to set a carbon price next year before moving to an emissions trading system as early as 2015 as part of key structural economic reforms.
The conservative opposition leader, Tony Abbott, accused the Prime Minister of deceit and told reporters her dramatic change of heart "was a performance worthy of Walt Disney".
Supporters, though, say the carbon tax would lift Australia, which emits more greenhouse pollution per person than almost any other country, out of the environmental "dark ages".
For their part, business groups insist the country would bleed jobs if the levy became a reality.
"There is a lot of apprehension within our membership on the possible impact to Australia's competitiveness of an economy-wide carbon tax or emissions trading scheme in the absence of a binding global agreement," said Peter Anderson, the chief executive of the Australian Chamber of Commerce and Industry.
Corporate opposition
Two of Australia's resources giants, Rio Tinto and Woodside Petroleum, have joined the criticism.
They insist that without wholesale alterations, the tax could be potentially ruinous for business, although some of the major banks have welcomed the proposal.
It would affect 1,000 Australian companies, including some of the country's biggest polluters.
In theory, they would be encouraged to clean up their act, because lower emissions would lead to a smaller financial liability.
Although precise details are still to be worked out, the government would use the receipts to compensate industry and households for higher energy bills, as well as funding renewable energy projects to create employment.
Chris Dunstan, research director at the Institute for Sustainable Futures at the University of Technology Sydney, says the carbon tax would put a price on emissions from Australia's coal-fired power stations and the burning of fossil fuels.
He adds that this pollution is an "external economic cost" that is borne by the community and the environment, but is not built into the retail price of electricity and petrol, for example.
Global leaders?
A tax, likely to be between 20 and 30 Australian dollars (US$19.90-$29.80; £12.30-£18.50) per tonne of emissions, would start to incorporate that externality into the cost of energy and other sources of carbon pollution, at a time when academics believe Australia needs to show global leadership.
"When it comes to carbon emissions, we're one of the highest per capita emitters of carbon," Mr Dunstan told the BBC in Sydney.
"But also, in absolute terms, we're about the 10th largest emitter of greenhouse gases in the world, so what we do actually matters in the context of international action."
A failure to adopt a promised emissions trading scheme and the subsequent evaporation of community support saw Kevin Rudd axed as prime minister by his party colleagues.
'Resource thinking'
Wary of a public worried about rising energy prices and suspicious of political U-turns, the Gillard government is taking an almighty gamble as it charts a contentious course towards a low-carbon future.
It risks not only the ire of a sceptical electorate, but the wrath of an immensely powerful resources sector.
John Kaye, a Green member of the New South Wales parliament, is worried that critics could wreck the tax plan.
"What we are very concerned about is they will continue their campaign to keep Australia locked in the dark ages. This is a nation that has an appalling track record on carbon pollution," Mr Kaye explained.
"It's also a nation where we have a lot to gain by making a transition. We can cut our emissions, we can increase employment, we can reduce the burden on households, we can reduce the impact on the environment - we can do all these things in the context of a dynamic growing economy.
"But that debate is yet to happen. We are still stuck in a resource economy with resource thinking," Mr Kaye explained.