Housing market 'stuck in a rut' says CML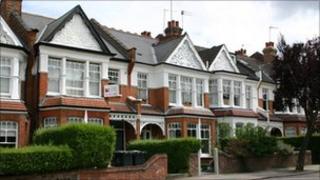 UK mortgage lending stayed at low levels in February as the housing market remained "stuck in a rut", lenders have said.
Gross mortgage lending during the month was £9.5bn, almost identical to January's low level, the Council of Mortgage Lenders (CML) said.
The lenders' group said 2011 would be "challenging" for the housing market.
A shortage of homes caused rents to rise for tenants, a separate survey indicated.
Rents rose by 0.2% in February to £684 a month, following a dip in the cost to tenants in January, the research from LSL Property Services found.
Weak lending
The CML said that lending remained weak, partly because banks were restricted, but also because there was little appetite for new borrowing among people concerned about their jobs and the economy.
Total lending was marginally higher than the same month a year ago, when activity in the market was also sluggish.
Bob Pannell, the CML's chief economist, said the picture was unlikely to change during the year ahead.
"Nothing that alters our underlying view that this is going to be a challenging year for households and the housing market," he said.
"The housing market remains stuck in a rut and... we do not anticipate much relief in next week's Budget."
The normal pick-up in house purchases after the New Year break was weaker than a year ago, the CML said, although sales to cash buyers had remained steady.
The figures suggest a shift from mortgage borrowing for new house purchases, to remortgaging. This could indicate that some people were locking into new fixed-rate deals ahead of an anticipated rise in interest rates later in the year.
Cost to tenants
Tough economic conditions has also had an effect on the rental market in February, the LSL survey indicated.
The trend of a rising number of tenants falling behind with their rental payments continued. The survey found that 12.6% of all UK rents were in arrears, compared with 11% in January.
Although the average rent in England and Wales was up, there were significant regional variations.
The biggest monthly change, of 1.9%, was in Wales, followed by the North West of England rose by 1.1%. In London rents have increased by 7.7% in the year to February.
However, average rents fell in four regions, with the North East of England recording a 1.4% drop, and a broadly static picture in the last year in the North East, North West and East of England.
"The fierce competition among renters in many areas of the country has cut short the traditional lull we tend to see between December and February," said David Newnes, estate agency managing director of LSL Property Services, owners of Your Move and Reeds Rains.
"The consistently constrained level of lending to home buyers has bolstered demand - and rents - in the private rental sector during what is typically a slower period.
"With the mortgage market even more sluggish since the start of 2011, this backlog of frustrated buyers has increased even further and rents have risen correspondingly."
Flat-sharing website Easyroommate said that the average flatsharing rent was £365 a month in March last year, but had now risen by 9.3% to £399 a month by this March.