Bank of Japan pumps another $37bn to ensure market calm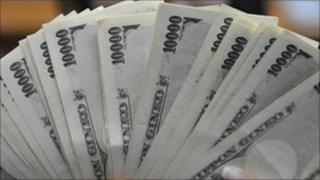 The Bank of Japan (BoJ) has pumped another 3 trillion yen ($37bn; £23bn) into the country's financial markets in a bid to ensure calm.
The move comes as the G7 nations agreed on a joint intervention in currency markets to control the yen's volatility.
The central bank has been injecting funds into the markets to maintain liquidity in the aftermath of last Friday's earthquake and tsunami.
The latest move has taken BoJ's total funds injection to 37tn yen.
The bank has made fresh funds available every single day this week as it tries to ensure that financial institutions in disaster-hit regions do not run out of funds.
The bank has also been battling to keep the value of the yen in check after it hit its highest level since the Second World War against the US dollar earlier this week.