Japan Nikkei climbs and yen weakens on G7 intervention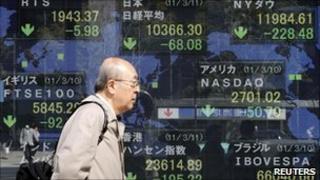 Japanese shares have climbed and the yen weakened after finance ministers from the G7 group of the world's richest countries agreed to step into the currency market.
The news came after the yen hit a post-World War II high of 76.25 to the dollar earlier this week, raising concerns about Japan's recovery.
The Nikkei 225 stock index rose 2.7% to 9,206.75, while the yen weakened against the US dollar to 81.81.
Analysts say markets will stay jumpy.
Also on Friday, the Bank of Japan said it would pump another 3tn yen ($38bn; £24bn) into the financial system, bringing the total cash injected by the bank this week to 37tn yen.
Big falls
Exporters gained the most from the G7's move, as a weaker yen makes their products cheaper to customers overseas.
The Nikkei has seen some of its most volatile trading in the past week.
The index fell more than 16% over Monday and Tuesday, its biggest two-day fall for 23 years, before rebounding on Wednesday.
However, concerns about the strength of the yen pushed the index lower on Thursday.
"The main things investors are worried about now are the nuclear plant, impact of the earthquake and tsunami on firms and power cuts putting pressure on Japanese manufacturers," said Norihiro Fujito at Mitsubishi UFJ Morgan Stanley Securities in Tokyo.
However, following the decision by the G7 to intervene in the currency markets, the focus may now shift away from the yen.
Not least because there there are plenty of other concerns occupying investors, analysts said.
Nuclear shut-down
The crisis in Japan has also had an impact on the price of oil.
Earlier this week, the price fell on expectations of weaker short-term demand following the shut-down of some of the country's industrial capacity.
However, with focus turning towards the prospect of increased energy imports to compensate for the shortfall in nuclear power following the closure of 11 reactors, and towards potential supply problems in the Middle East, the oil price is rising once again.
On Thursday, US light crude rose more than $1 a barrel to $116.11, while Brent crude rose $1.59 to $103.98.