Nike profit rise fails to impress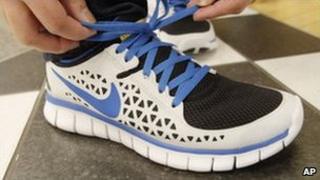 A 5% rise in net profits for Nike was not enough for investors who had expected the sportswear and shoes firm to deliver even more.
Profits rose slower than earnings, which were up 7%, meaning the company's margins were slimmer than before.
Nike blamed a rising tax burden, as well as higher manufacturing and shipping costs.
Traders responded by lowering the cost of buying shares in the company, which is a market leader in its field.
Even an 11% rise in orders for the season ahead, failed to reassure investors who are used to Nike exceeding predictions.
Nike shares closed down 5.2% at $81 (£50).