Lloyds Banking Group to cut 570 more jobs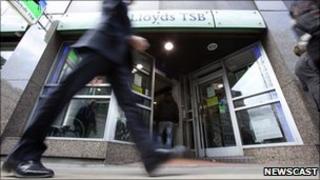 Lloyds Banking Group is cutting 570 jobs and outsourcing more than 450 posts under further restructuring.
The jobs are going from the part-nationalised group's wholesale, retail, insurance and human resources divisions across the UK.
The cuts take the total number of jobs lost since Lloyds merged with HBOS two years ago to more than 26,700.
Lloyds also said hundreds of jobs would be outsourced, affecting its cheque and credit processing operations.
Locations affected include Chester, where 140 jobs will go, Halifax, which is losing 90 posts, and 50 redundancies each in London and Manchester.
A total of 90 jobs will also go in Scotland, most of them in Edinburgh.
"Lloyds Banking Group is committed to working through these changes with employees in a careful and sensitive way. All affected employees have been briefed by their line manager today," the firm said.
Lloyds said it hoped to achieve the cuts by voluntary redundancy and that compulsory losses would be a "last resort".
But David Fleming, national officer of the Unite union, said the news would be met with "despair" by staff.
"Just two weeks ago, this taxpayer-supported organisation announced profits of £2.2bn," he said.