UK car production up 15% in February, says SMMT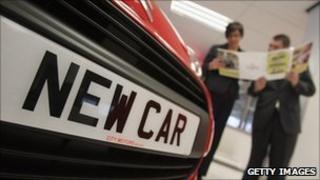 UK car production rose 15.1% in February from a year ago, as export-led growth continued.
There was also a 10.2% rise in engine output, according to figures from the Society of Motor Manufacturers and Traders (SMMT).
Paul Everitt, SMMT chief executive, said there had been a 27% increase in exports, which "highlights the strength and competitiveness of UK products".
He warned that next week's Budget must support the industry, not damage it.
The Budget "will be crucial in creating the conditions for further investment in skills, R&D and capital equipment, all essential for growth and maintaining global competitiveness," he said.
February's rise in car output means production over the first two months of the year is now up 12% on 2010.
The SMMT said commercial vehicle production was down 3% in February, but for the first two months of 2011 was up 2.6%.