Inflation rate 'will rise', Bank of England poll says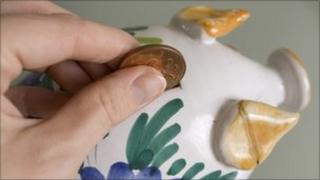 Nearly two-thirds of people expect the rate of inflation to rise in the next 12 months, a Bank of England survey has indicated.
The poll, conducted in February, showed that 62% of those asked were expecting a rise, up from 52% in November.
Crucially, fewer than one in 10 said they would demand higher wages to try to offset increasing prices.
If people ask for pay rises as they expect prices to keep rising, this can create a damaging inflationary spiral.
As a result, the Bank of England takes the public's inflationary expectations seriously and they can influence its decisions on whether interest rates need to rise.
The Bank of England's latest inflation attitudes survey showed that 66% thought interest rates should rise to tackle inflation, if the rate increased.
Such a move could hearten savers, who have seen small interest payments while inflation has eaten away at the value of their savings.
The UK Consumer Prices Index (CPI) annual inflation rate rose to 4% in January, up from 3.7% in December, well above the 2% target.
Retail Prices Index (RPI) inflation - which includes mortgage interest payments - rose to 5.1% from 4.8%.
Policy
One charity leader has suggested that older people - some of whom live off the interest from life savings - should be given extra help from savings account providers.
Dame Hilary Blume, director of the Charities Advisory Trust, said in a letter to the Daily Telegraph that banks could pay a higher rate of interest to the over-65s.
"They could pay interest at one percentage point below the rate at which they lend," she said.
Ros Altmann, of the Saga Group, agreed that banks should be forced by the government to do more for those aged over 50 who have been hit by low interest rates, and especially older pensioners.
"You could argue that older people living on savings do not have the option to earn more," she said.
However, she said that there were practical difficulties in banks offering a uniform rate for older people.
The British Bankers' Association, which represents the banks, said that legislation was likely to prevent such deals being offered.
"Banks cannot legally offer preferential savings rates based on the age of the customer. There is a wide range of savings and investment products and customers should ask their bank or shop around for the one which suits them best," a spokeswoman said.