Credit card competition hots up on 0% deals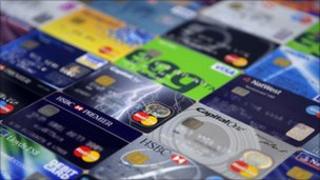 Credit card providers are engaged in fierce competition over the length of 0% balance transfer deals.
Providers are increasing the time period of 0% interest on debt that customers switch from other cards, with one extending it to 20 months.
Competition has picked up after providers scaled back these offers during the recession.
However, financial groups are warning customers to take care over the small print of such deals.
Check details
The average length of 0% interest balance transfer deals on the top five credit cards was now 17.8 months, up from 15.2 months in March last year, according to financial website Moneysupermarket.com.
This was the longest period recorded, it said.
However, fees are charged for such deals, and consumers are being urged to check the details of the interest rate to be charged when the 0% deal comes to an end.
Kevin Mountford, from Moneysupermarket, warned that not everyone would be eligible for the deals.
"This competition is welcome news for those consumers who are in a position to take advantage of this price war and consolidate any existing credit card balances on to cheaper deals," he said.
"However, consumers need to be aware that most lenders are giving these deals to customers who have excellent or good credit histories.
"If you fall outside of this category then you may find your options are more limited. Before applying for a credit card, consumers need to check their credit profile and make sure there is no adverse information that would jeopardise their chances of being accepted."
Chris Griffiths, from website Confused.com, said: "To ensure you keep your 0% you will need to stay within the terms and conditions of the account or risk losing any introductory offer."