Bahrain: Banks close offices and stock market shuts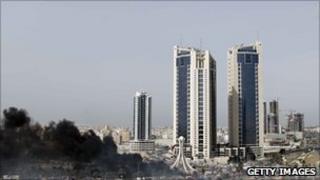 HSBC and Standard Chartered have said they are closing all of their branch offices in Bahrain.
The decision came as the Bahrain stock exchange was shut down because of the country's state of emergency.
The stock market had not been under pressure before the closure, moving in line with other world markets.
However, the Gulf state's cost of borrowing hit a new high on Tuesday, with the yield on its nine-year international bond reaching 6.84%.
The yield has risen 2.1 percentage points since November, and is trading at higher levels than that of much more heavily-indebted Lebanon.
It came as rating agency Fitch cut its assessment of the kingdom's creditworthiness by two notches on Tuesday from A- to BBB - leaving it only another two notches above the risky "speculative grade" level.
Bahrain has $7.6bn of debts outstanding - about 40% of its annual economic output - according to data from Bloomberg, of which about $2bn is due for repayment this year.
'National safety'
In recent days, the Bahrain financial district had been targeted by protesters, who blocked roads, before the demonstrations were violently broken up by security forces on Wednesday morning.
The Bahrain Bourse's decision to close was made "due to the declaration of national safety in the kingdom", the stock exchange said in a short statement on its website.
HSBC and Standard Chartered cited the safety of their staff for their own decisions to shut up shop.
They said that cash machines and other automated banking services were continuing.
They are two of the biggest foreign banks in the country, with eleven branches and 834 employees between them.