The BOJ injects $43bn to shore up the financial markets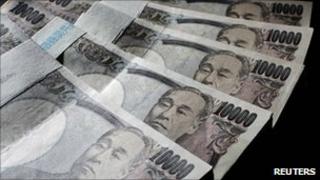 The Bank of Japan has pumped an extra 3.5 trillion yen ($43bn; £27bn) into the financial markets on Wednesday.
The injection comes after the central bank announced a cash input of 23tn yen ($284bn) on Monday and Tuesday.
The Bank of Japan has been pumping cash into the banking sector to shore up consumer confidence and maintain liquidity.
Japan's main Nikkei 225 index gained 6% in early trade on Wednesday after two days of massive sell-offs.
Currency issues
Analysts said the the central bank's decision to pump in further cash into the markets may also be influenced by a rising yen.
The Japanese currency has been gaining against the US dollar as Japanese companies and insurers send home cash to fund reconstruction.
That boosts demand for the yen, thus pushing up the price.
A stronger yen is damaging for the export-dependent Japanese economy.
Not only does it make its goods more expensive, it also eats into the profits of companies when they transfer their foreign earnings back home.
On Tuesday, Japan's Finance Minister, Yoshihiko Noda, said that the government is watching the movements in the yen price closely.