Councils to help first-time buyers on to housing ladder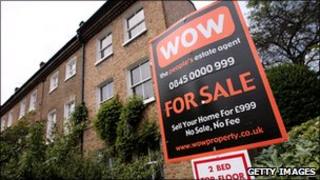 Councils are to help first-time buyers get on the housing ladder by topping up their deposits.
Five councils are pioneering a scheme aimed at buyers who can afford the monthly mortgage repayments but do not have a lump sum saved up.
Many first-time buyers find it difficult to purchase a home because lenders are asking for hefty deposits.
The councils will put 20% of the price in a Lloyds TSB account, with the lender asking for a 5% deposit.
The funds will not go to the buyer and the mortgage rate will be lower.
The councils risk losing money if a buyer defaults, but they get a generous interest rate themselves.
The scheme could benefit up to 300 first-time buyers in each area, but if other councils join, thousands could potentially benefit.
Another 10 councils are waiting to join the scheme.
Sustainable market
The scheme is called Local Lend a Hand.
"We know that a lot of young people turn to the Bank of Mum and Dad to get their foot on the ladder, but that is not a solution for everyone," said Stephen Noakes, of Lloyds TSB.
"By developing Local Lend a Hand and working with local authorities across the UK, we're broadening the prospect of home ownership to even more first-time buyers.
"Helping people to buy their first home is crucial in achieving and maintaining a sustainable housing market," he added.
The councils involved so far are Warrington, Northumberland, East Lothian, Blackpool and Newcastle-under-Lyme.
The scheme was welcomed by Housing Minister Grant Shapps, who encouraged the industry to offer greater help for first-time buyers at a recent summit.
"I am delighted to see that those on the front line of building homes and providing mortgages are stepping up their efforts to help aspiring first-time buyers get a foot on the ladder," he said.
But estate agent and property market commentator Henry Pryor said that councils should not be risking money during a time when their budgets were being squeezed.
"It is not the job of the local authority to spend council tax money propping up an over-heated housing market. If prices have to fall back so that first-time buyers can afford to buy then that is what is what should happen," he said.
Figures from the Financial Services Authority (FSA), published earlier this week, showed that only just over 2% of new mortgage lending in the final three months of 2010 was to those who could offer a deposit of less than 10% of a home's value.
Complaints
The project was launched as the number of complaints against estate agents was described as "unacceptably" high by the Property Ombudsman, despite inactivity in the housing market.
Christopher Hamer said he had dealt with 1,338 new cases last year. This was a record number during the scheme's 20-year existence.
Among the cases, which reach the ombudsman if a customer and agent are unable to come to agreement following a complaint, were 646 cases about sales and 672 cases about lettings.
Mr Hamer repeated his view that the government should step in to introduce better protection for tenants and landlords against rogue letting agents.
Unlike estate agents, letting agents do not have to belong to an ombudsman scheme, although many sign up voluntarily.
His views were backed by the Association of Residential Letting Agents (Arla).
"The increase in the number of complaints recorded by the Property Ombudsman is unsurprising, given that the ombudsman covered more tenancies during 2010," said operations manager Ian Potter.
"However, as the ombudsman says, the regulation of letting agents is well overdue. The absence of regulation means the consumer is left vulnerable, with nowhere to go when there is service failure or fraud."