Fulham football club losses up despite on-field success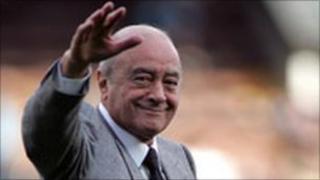 Fulham football club chairman Mohammed al-Fayed has said he is fully committed to bankrolling the Premier League side, despite its posting a £16.9m loss for the last financial year.
Reaching last season's Europa League final helped the London side bring in additional revenues of £12.5m.
But annual losses rose by £10m, mainly due to higher wages and new contracts.
But Mr al-Fayed said he would continue to make "funds available to achieve our goals both on and off the pitch".
He said in a statement: "The continued success of Fulham and its eventual financial self-sustainability is my priority."
Mr al-Fayed, the former owner of Harrods, has been in charge of Fulham since 1997, seeing the club through some of its most successful years in decades.
He is thought to have provided about £160m in funding to the west London club.
He said: "As is evident, I remain committed to making investment funds available."