Nasdaq 'to make rival bid' for NYSE Euronext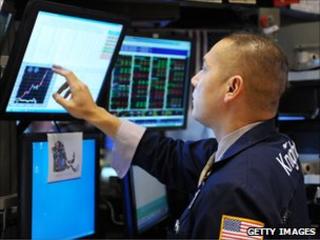 Nasdaq OMX Group is set to launch a $12bn (£7.5bn) bid for NYSE Euronext later this week, various reports in the US media claim, citing unnamed sources.
The US technology exchange is said to be seeking $5bn debt to fund the bid.
The deal would compete directly with the $10.2bn tie-up between NYSE and Deutsche Boerse already agreed between the two companies' boards in February.
It would create a heavily US-oriented firm, and reportedly includes the sale of existing European assets of NYSE.
Europe spin-off
None of the parties involved has officially commented, despite widespread media reports, with Bloomberg, Reuters, the Wall Street Journal and Financial Times all independently confirming the claims.
Bank of America is said to be lining up the the planned debt from four banks.
Nasdaq also reportedly plans to finance the bid by selling $5bn of its own assets.
This would include spinning off some of NYSE's European businesses, including its London-based derivatives business, Liffe, to the Atlanta-based Intercontinental Exchange.
If Nasdaq succeeds in thwarting the planned merger with Deutsche Boerse, it would have to foot a $250m break-up fee already agreed by NYSE with the German exchange to help cement their deal.
The offer would keep the NYSE in US ownership, in contrast to the Deutsche Boerse tie-up which would see the Wall Street business reporting to a group headquarters in Frankfurt.
The Wall Street exchange has benefited from market anticipation of a possible bidding war.
When rumours of the deal first broke on Monday, NYSE Euronext's share price spiked 8.5%, before eventually ending the day 3.5% higher in New York.
The firm gave up some of those gains at the open of European trading on Monday, falling back 1.4% in the opening minutes, in line with a general decline across stock markets.