The BOJ pumps extra $98bn to prop up financial markets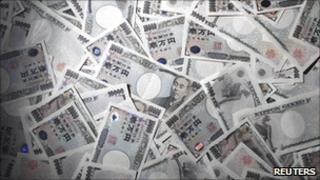 The Bank of Japan has pumped an extra eight trillion yen ($98bn; £61bn) into the country's banking system as it looks to shore up investor sentiment following the earthquake and tsunami.
The injection came in two stages; the first of 5tn yen took place in the morning, the second after reports of increased radiation leaks.
On Monday, the central bank injected 15tn yen into the banking system.
Japan's main Nikkei stock index ended Tuesday trading down 10.6%.
Earlier in the day it had been as low as 14%. On Monday it finished 6% lower.
The government said that the stock market was falling due to temporary factors.
"Japan's production and the economic power have not fallen," Economics Minister Kaoru Yosano said after a cabinet meeting.
"I think the market confusion will calm down in a short time."
Poorer Japan?
Monday's injection of 15tn yen was the largest ever single operation by the Japanese central bank.
Analysts have said that it will probably cost Japan hundreds of billions of dollars to rebuild after the earthquake and tsunami that hit the country.
It is dealing with a massive clean-up operation, the threat of nuclear meltdown, power shortages and significant economic disruption.
"Japan will be poorer, for this disaster," said Peter Morici, a professor at the University of Maryland.
"Rebuilding will run down Japan's financial wealth."
Stimulus measure
Japan's economy has only just started to emerge from years of stagnation and recession.
Last month, it was overtaken by China as the world's second-biggest economy.
In an effort to stimulate growth, the central bank has been keeping interest rates at close to zero.
On Monday, the BOJ's nine-member policy board decided to keep borrowing costs at current levels.