Hewlett Packard CEO unveils move into cloud computing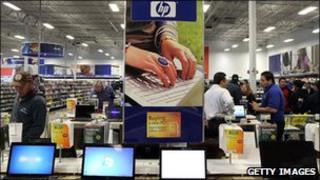 PC maker Hewlett Packard has unveiled plans to move into the cloud computing market.
Chief executive Leo Apotheker says that HP will develop its own internet services and create an application store, for consumers and businesses.
The focus on such online services is seen by analysts as attempt by HP to catch up with rivals such as Apple and IBM.
Mr Apotheker also said HP was aiming to boost earnings and increase dividends.
In February, HP reported lower-than-expected sales growth for the last quarter of 2010.
Outlining his long term vision for the company, Mr Apotheker announced that the recently unveiled TouchPad would be launched in June.
The TouchPad is part of the firm's strategy to make inroads into the tablet market established, in part, by the Apple iPad.
Shares fall
Mr Apotheker was appointed at the end of 2010 following the surprise exit of Mark Hurd over expenses irregularities and questions about his personal conduct.
HP shares have fallen 10% since Mr Hurd left, and the company also stumbled recently when it was forced to trim its revenue forecast.
Mr Apotheker's way forward for HP also included an emphasis on connectivity and software.
"The world is connected, people to people. People want information where and when they need it," he said.
"We intend to be the platform for the cloud and connectivity."
Focus
To date HP is a leader in selling PCs and printers, but largely missing from the growing trend of cloud computing, where computer programmes are accessed over the internet.
This new shift for the company will put it in direct competition with the likes of Salesforce, Google and Amazon, but industry watchers said HP will have to prove itself in this new marketplace.
"Everyone knows that computing is moving more and more to the cloud," Matt Rosoff, west coast editor of Silicon Valley Insider, told BBC News.
"HP's existing businesses in producing PCs and printers will remain its core strength for a long time.
"I don't think suddenly you are going to get people switching off Amazon web services onto whatever HP delivers."
In his first public appearance since taking over the job as chief executive, Mr Apotheker said he had been rolling up my sleeves and digging into the business.
With $126bn (£78bn) in annual sales and more than 300,000 employees, HP is the world's biggest seller of PCs and printers. It ships more than two printers per second.
In a move that is bound to please investors, HP also announced that it aims to raise quarterly dividends by 50% to 12 cents a share from May, and keep it growing at double-digits.