Japan earthquake: The impact on prices so far
By Rebecca Marston
Business reporter, BBC News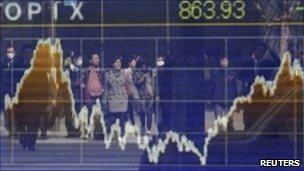 The Japanese quake and tsunami have led to sharp reactions in both leading share and commodity prices on world markets as companies and investors attempt to position themselves to avoid major losses and gain a share in the proceeds of businesses that might benefit from changes in demand.
Already some clear trends are emerging. Shortages in certain commodities as Japan seeks to rebuild will mean price spikes for some.
The country supplies up to a fifth of the world's electronics components and has significant motor and steel industries, production of which has been interrupted.
Whether you are a buyer or a seller will determine whether any shortages of goods - and any resulting price changes - are welcome ones.
Oil, unusually, fell on news of the disaster.
Japan, the world's third biggest economy and third biggest importer of oil, is likely to want less in the short term as factories are shut and economic output declines.
A barrel of benchmark Brent crude was down as much as $2.68 at $111.16, while US light, sweet crude fell to as low as $98.47 - also a drop of almost $3.
But gas prices have risen. With 11 of the country's 54 nuclear power stations out of action, Japan is expected to import more liquefied natural gas (LNG) - gas that is cooled into liquid form for easy transportation.
The price of LNG leapt to their highest level since November 2008, with energy analysts warning of higher prices in the UK, which takes 20% of its power from LNG.
One company which investors think could gain is the UK temporary power provider Aggreko. It supplies self-contained gas and diesel generators and its services are expected to be in demand. Its shares rose by almost 6%.
Metals prices have not moved much in reaction to the situation in Japan. The price of copper and zinc both rose slightly, but short-term demand is expected to be weak from Japan.
That is forecast to change. As Deutsche Bank wrote in a research note: "The disruption to industrial sector activity is likely to have a negative impact on the industrial metals and bulk commodity sectors. However, we expect attention will turn to reconstruction."
It said it expected copper and zinc to be the principal beneficiaries of a large-scale reconstruction programme.
Steel is unlikely to see much of a change in price in the near term. Japan is a steel exporter and although production and shipping have been disrupted, China is seen as having sufficient capacity to make up the shortfall without prices rising significantly.
The prices of major food commodities have fallen in response to events in Japan.
The country is the world's biggest importer of corn, taking in 15 million tonnes from the US alone.
It is also the world's third biggest importer of soya beans and the fourth biggest wheat importer.
Prices in all three commodities have fallen because the flow of goods has been interrupted by damage to eight key ports in the north east along with other infrastructure.
Shares in major reinsurance companies - which help general insurance companies spread their own risk - have fallen sharply as estimates of the cost of claims have emerged.
The predictions range between $10bn (£6.2bn) and $35bn (£21.7bn).
These estimates are very rough at this stage but could account for a small percentage of the total cost of the disaster.
Traditionally, the Japanese are less well covered by insurance policies than in the US or Western Europe.
For example, the Kobe quake of 1995 cost the insurance industry some $3bn, with the total economic cost dwarfing that at $100bn.
Reinsurance companies were among the most badly hit on European markets, suffering sharp falls for the second day on Monday.
Swiss Re down almost 5%, while Munich Re was down more than 3% and Hannover Re down 2%.
Japan's world-renowned car and electronics companies suffered heavy share price falls as production was halted or disrupted.
North-eastern Japan is a major centre for the car industry. Toyota fell 7.9%, Honda 6.5%, Nissan 9.5%, Mitsubishi 11.8% and Isuzu 9.2%.
None of the big seven, which also include Suzuki and Subaru, are operating fully, either because of power shortages or difficulties in contacting suppliers, many of whom are based in the affected region.
Even Mazda, whose plant is in far western Japan, said it was suspending certain shifts because it feared a shortage of parts.
Mazda's shutdown affects just about every model it sells in the US.
In electronics, Sony fell 9% and Toshiba, which manufactures nuclear reactors, fell by 16%. Rival Hitachi dropped 16.2%.
Mitsubishi Heavy Industries lost 10% and Kobe Steel 6%.
Shares in luxury goods firms have fallen on expectations that Japanese customers will cut back spending in response to the country's crisis.
Japanese buyers make up 11% of the global luxury goods market, dominated by firms such as Hermes, Burberry, LVHM, Richemont, Tiffany and Coach.
Shares in the companies fell by between 2% and almost 6% during Monday - not because anyone thought Japan's rich would no longer be able to afford luxury products, but because they would be cautious about treating themselves at a time when others are suffering.
Besides, said some analysts, luxury sales depend on confidence - in the markets as well as in the future.
The Japanese yen is expected to rise in the medium term as Japanese individuals and companies repatriate foreign currency holdings to help with reconstruction, pushing up demand.
A strong yen would help to keep costs down for imports for rebuilding, but it also makes Japanese exports more expensive for buyers and therefore acts as a brake on economic recovery.
The yen did slip slightly in Monday trading after the Bank of Japan injected a colossal 15 trillion yen ($184bn, $114bn) into financial markets to keep credit flowing as well as increasing an asset-buying programme.
That move should help to keep interest rates at rock bottom.
South Korea, as a neighbour and competitor, gave some useful pointers as to how rivals could gain or lose.
There was a mixed picture, with some companies expecting to pick up orders which cannot now be filled by Japan.
South Korean electricals and motors gained just as their Japanese rivals lost. Samsung Electronics rose 3.7% and Hyundai Motors was up 1.4%.
But a number of companies depend on components from Japan, including computer equipment makers and shipbuilders, and that will mean production difficulties for South Korea, too.