Japan earthquake: Insurers hit by claim fears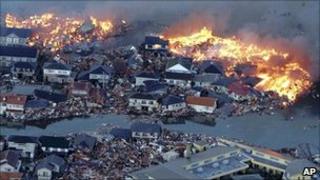 Insurance company shares around the world have been hit as concerns grow about the cost of reconstruction in Japan following Friday's earthquake and the resulting tsunami.
Initial estimates suggest the damage could cost the insurance industry up to $35bn (£22bn).
In Frankfurt, Munich Re fell 3.4% while Allianz lost 2.9%. In London, Aviva fell 3.1% and in Paris, Axa lost 3.3%.
Analysts say the disaster could trigger higher insurance prices in the future.
Global insurance companies had already taken a hit from the disaster on Friday.
Varying estimates
Experts said it was difficult to forecast accurately the final bill from the earthquake and tsunami.
The uncertainties about the extent of the damage and level of claims mean analysts' estimates about the cost to the insurance industry vary widely.
Risk modelling agency AIR Worldwide put the bill at between $15bn and $35bn, while James Shuck from Jeffries International estimated a loss to the sector of between $10bn and $20bn.
"Given the nature of the destruction, combined with the ongoing recovery efforts and evacuation areas, it will take some time to estimate the damage," said reinsurance giant Swiss Re.
However, any further damage caused by explosions at nuclear plants was unlikely to hit insurers, it added.
"Generally, coverage for nuclear facilities in Japan excludes earthquake shock, fire following earthquake and tsunami, both in terms of physical damage and liability," it said.
"Coverage for property policies excludes nuclear contamination."
Munich Re said the impact of a nuclear accident would "not significantly affect the private insurance industry".
A series of explosions at the Fukushima Daiichi plant has raised concerns about a possible meltdown at one of its three reactors.