China rules out faster yuan rise despite soaring prices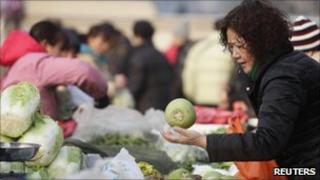 The Chinese Premier Wen Jiabao has ruled out any changes to China's policy on its currency, the yuan.
China has been battling inflation, with consumer prices rising 4.9% in February from the same month a year ago.
Analysts had suggested that allowing the yuan to strengthen against the US dollar could make imports cheaper, thus reducing costs.
China has been accused of keeping its currency artificially low in order to help its exporters.
However, the Chinese premier has warned that a sudden appreciation in the value of yuan may have a detrimental affect on the Chinese economy.
"The appreciation of Chinese currency should be a gradual process," Premier Wen said.
"We must bear in mind its impact on the Chinese businesses and our employment situation," he added.
Global impact
Rising consumer prices in China have become a sensitive political topic, with food prices surging by 11% in February from an year ago.
This is despite various measures taken by the government and the central bank to keep prices in check.
Premier Wen said that this was due to the fact that consumer prices are being driven by global factors and not just by conditions and demand in the mainland.
"Imported inflation has had a big impact on China and is a factor that is not easy to control," he said.
He also pointed out that lower interest rates in developed economies had resulted in a huge influx of money into Asia from investors seeking higher returns.
He said that this was another factor which was putting pressure on commodity prices.
"Some countries have pursued quantitative easing and that has caused drastic fluctuations in the exchange rates of some major currencies and in global commodities prices," he said.