Japan nuclear risks could hurt industry growth in Asia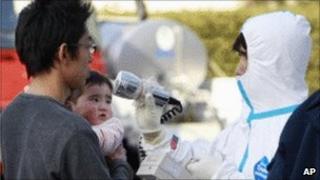 The economic impact of the explosions at nuclear plants in Japan could dampen the nuclear industry's growth prospects in Asia.
Many countries in Asia have been looking at nuclear power as a way to meet their fast-growing energy needs.
However, analysts suggest that depending on how severe the situation becomes in Japan, some Asian countries could reconsider their energy plans.
'Tipping point'
Countries including Indonesia and Malaysia have been looking into nuclear energy as a source of power for years.
"If a country is considering building a nuclear reactor, it would take a step back and say hold on a minute. What implication will [incidents in Japan] have on designs in the future and therefore economics," says Antony Froggatt, senior research fellow at Chatham House.
Extra safety requirements could mean added expense in an industry where the up-front costs of building a nuclear power plant are already very high.
"Utilities are driven by the bottom line, if you have to build more safety barriers then you might reach a tipping point where other energy options become more cheaper and nuclear is ruled out," Mr Froggatt adds.
Mr Froggatt says now that prices of other technologies such as wind and geothermal are coming down, countries might consider delaying nuclear projects until the safety implications become clear.
But that will not be the approach everywhere in Asia.
Energy needs
In India and China, demand for energy is immense to support rapid economic growth.
Analysts say these countries are unlikely to change their plans because of the situation in Japan.
"I don't think you'll see countries that have already committed to nuclear plans change course," says Benjamin Sovacool, assistant professor of energy policy at the National University of Singapore.
"It is an integral part of their development strategy. So India and China will continue their nuclear development."
India aims to supply 25% of its power from nuclear power plants by 2050.
Currently only 2.5% of its power comes from nuclear sources.
Similarly, China has more than 25 nuclear power plants under construction, and 50 in the planning stages.
It also expects its nuclear capacity to jump 10-fold by 2050.
Damaging images
Nonetheless, public opinion of the nuclear industry is likely to shift in Asia.
"Photos of babies being tested for radiation - those are powerful images and they will be damaging," says Mr Sovacool.
"Even if we find the risks were overblown. People will remember the fear they felt."
And that fear could result in a reluctance to speed ahead with nuclear projects.
"Historically when you have major accidents there has been rise in public opposition and cancellation of projects," says Mr Froggatt.