BOJ pumps $183bn to calm markets as stocks tumble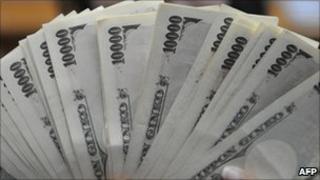 The Bank of Japan is to inject 15 trillion yen ($183bn; £114bn) into the banking system to stabilise financial markets.
Tokyo's Nikkei 225 index fell 6.2% on the first day of trading after Friday's quake as the markets assessed the full impact of the devastation.
The amount is the largest ever in a single operation by the Japanese central bank.
The Bank also announced steps to ease monetary policy.
"We will take every possible measure, including providing liquidity, to ensure the stability of financial markets," a bank spokesman said.
Japan is facing upheaval on a huge scale as it grapples with the massive clean-up operation, a potential nuclear meltdown, power shortages and huge disruption to the economy.
As the country comes to grips with the extent and scale of the devastation, consumers are expected to withdraw their savings to pay for immediate expenses.
Analysts say that the central bank is making sure there is no panic in the market by ensuring enough liquidity in the banking system.
The Bank will also make available another 6.8 trillion yen ($73bn; £45.4bn) in the next two days.
Further easing
During the Bank's monetary policy meeting on Monday, it also announced the expansion of an asset buying fund by 5 trillion yen ($60.8bn; £37.8bn) to support businesses.
In a statement, the Bank said this was to "preempt a deterioration in business sentiment".
The nine-member policy board also voted unanimously to keep its key interest rate at virtually zero.
Japan's central bank has kept interest rates at record lows in recent years in a bid to boost growth as the country struggles to emerge from the effects of the global financial crisis.
Now with the triple impact of the earthquake, tsunami and nuclear accident, many believe that Japan's economy could be pushed back into recession.
No fiscal crisis
As the central bank injects fresh funds into the economy and the estimated cost of rebuilding goes up, there are concerns about Japan's growing deficit.
Japan has the largest debt in the industrialised world and the devastation caused by the earthquake and tsunami is likely to take that figure higher.
The nation's credit rating was recently downgraded on concerns that not enough is being done to address it.
However, Japan's debt is funded largely by local savings, so most analysts do not believe there is any immediate threat of a fiscal crisis in the country.
"We still see that the market will readily fund the government right now," said Tom Byrne of ratings agency, Moody's.
"We still don't see an immediate fiscal crisis," Mr Byrne added.