Heathrow airport owner BAA gives boss £151,000 pay rise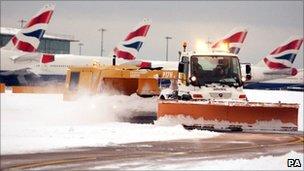 The chief executive of BAA, which owns Heathrow airport, was given a £151,000 pay rise for 2010.
Colin Matthews, who apologised to MPs this week for the recent snow chaos at Heathrow, saw his pay rise to £971,000, according to BAA's annual report.
BAA said the increase was because Mr Matthews now received pension payments directly, not into his pension scheme.
On Monday he faced a Transport Select Committee hearing into Heathrow's failings during December's snow chaos.
"Colin Matthews' basic salary increased by 3.6% in 2010," said BAA.
"The numbers in the annual accounts reflect the fact that since April 2010, pension payments are paid directly to Mr Matthews and no longer to his pension scheme."
On Monday Mr Matthews admitted that Heathrow was "overwhelmed" by the amount of snow and accepted that communication with airlines could have been better during four days of huge passenger disruption.
He said after the disruption that he would forgo his annual bonus. He still stands to receive a long-term incentive scheme bonus in 2012 if BAA meets performance targets.
Related Internet Links
The BBC is not responsible for the content of external sites.