Sudden slump in mortgage lending, lenders reveal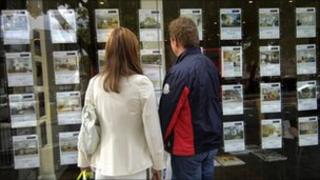 The number of new mortgages lent to house buyers slumped by 29% in January compared to December, the Council of Mortgage Lenders (CML) said.
At just 28,500 the figure was also 12% lower than in January last year.
The CML said the fall was larger than expected at the time of year and due to an "unusual combination of factors".
The figures suggest the property market may be heading for a new downturn in activity due to mortgage rationing and the uncertain state of the economy.
"With the effects of last year's government spending cuts beginning to bite, and rising inflation and tax measures putting pressure on household budgets, potential house-buyers are likely to have been discouraged," the CML said.
"This, coupled with December's extreme winter weather, and uncertainty over future interest rate rises, has led to a lack of movement in the mortgage market."
Deposits lower
January's fall in mortgage lending, which the CML admitted was "substantial", takes lending back to its difficult position seen in the first few months of 2009, in the immediate aftermath of the international banking crisis.
Compared to earlier in the decade, the latest figures are a massive drop.
For instance, in January 2003, 90,300 new mortgages were agreed with home buyers.
For the few first-time buyers able to agree new mortgages - just 10,500 in January this year - borrowing requirements eased slightly.
The average deposit they had to put down fell to 20%, the lowest level of downpayment for more than two years.
Weather factor?
Brian Murphy, of mortgage broker Mortgage Advice Bureau, said he expected lending to have picked up again in February.
"The usual pre-Christmas slowdown, low consumer confidence generally, and the extreme weather in late November and December caused a reduction in applications in late 2010, which resulted in the fall in actual loan advances during the first month of the year," he said.
"Activity overall witnessed a marked increase in February over January both among house buyers and those looking to refinance existing arrangements."
However, Howard Archer of IHS Global Insight economic analysts was less sanguine.
"The very weak CML mortgage advances data for January indicates that the housing market started 2011 on the back foot and supports our belief that house prices are headed down further over the coming months," he said.
"Further bad news for the housing market is the now strong possibility that the Bank of England will start to raise interest rates within the next few months to counter above target and rising inflation," he added.