Wetherspoon pub profits fall despite record sales rise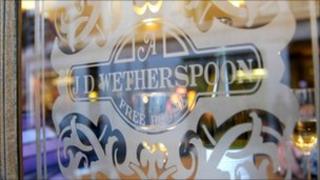 Profits at pub group JD Wetherspoon fell as chairman Tim Martin warned of the impact of a "pernicious combination of increasing taxes and regulation".
Despite posting record half-year sales up 7.6% to £525.4m, Wetherspoon's pre-tax profits fell 11% to £32.2m.
The operating margin fell from 10% to 9.4%, with Mr Martin blaming higher energy, food, labour and tax costs.
Trading in the six weeks to 6 March had also seen like-for-like sales up 2.8% and total sales up 7.9%.
But Mr Martin said the business environment was increasingly tough.
"Britain has now become a high tax and regulation environment for business, with the effects of this being seen in many thousands of closed pubs and other small businesses across Britain, as well as a marked increase in unemployment, " he said.
During the six months 14 Wetherspoon pubs opened and two closed, leaving the group with 787 outlets.
The dividend for the six months is 4 pence.