Japan earthquake causes fall in insurance shares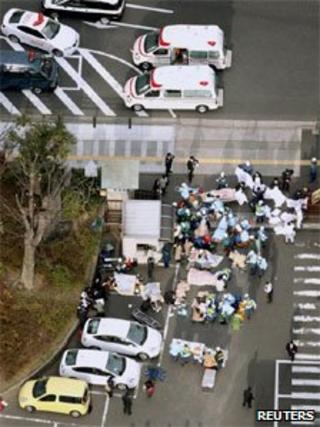 Insurance stocks worldwide have fallen in response to a tsunami and earthquake in Japan measuring 8.9 on the Richter scale.
Shares in large insurers such as Munich Re fell in anticipation of big payouts to cover the cost of the disaster.
Economists said the economic impact could be "considerable", although it was too early to make any judgements.
Oil prices were also down, as markets predicted lower demand from Japan, the world's third largest oil importer.
US light, sweet crude fell by as much as $2.60 to $99.01 - the first time it had dipped below $100 a barrel in a week.
In London, Brent crude fell by as much as $3 to $112.25.
Prices were also lower because there had been little unrest in major oil producer Saudi Arabia on what had been called its day of rage.
Counting the cost
Insurers were the biggest initial losers on the markets.
In Frankfurt, insurers Munich Re and Hannover Re closed down 5%.
In London, insurers RSA were down 2.6% while reinsurers Catlin Group were down 4.8%.
Munich Re has already said it would have to pay out about $1bn because of the Christchurch earthquake in New Zealand on 22 February.
"It will be an expensive event," one analyst said.
However a spokesperson for Swiss Re said it was "too soon to consider the financial consequences, whether for the sector or for a company like Swiss Re".
Uncertain impact
The Bank of Japan said it would do all it could to maintain financial market stability and said that bank clearing systems were intact.
It also said its policy meeting scheduled for two days next week would now just take place on Monday.
Economists indicated this meant it wanted to communicate its interest rate decision to the markets as early as possible.
Asian stock markets closed down after the quake struck.
The Nikkei ended the day down 1.7%, but the quake happened only minutes before the 0645 GMT close of trading in Tokyo.
It had already been lower following concerns about the ongoing turmoil in the Middle East before it closed at its lowest level in five weeks.
Nikkei futures then fell 3% in after-hours trading in Singapore.
Hong Kong's Hang Seng dropped some 1.8% following the earthquake, and ended the day down 1.6%. The Shanghai composite fell by 0.8%.
The major European markets were not down by as much. By the end of the day, the FTSE in London was 0.3% lower, while the main German and French markets were down about 1%.
Analysts suggested that shares in Japan were likely to be hit in the near-term, due largely to the uncertainties surrounding the economic impact of the quake.
"There are sure to be more losses on Monday when the market re-opens... if the market is indeed allowed to reopen on Monday," said Carl Weinberg from High Frequency Economics.
Daiwa Capital Markets, who said it was too early to make any predictions, pointed out that the Nikkei had fallen by 25% in the six months after the Kobe earthquake in 1995, when other markets were rising.