SJM shares jump as Ho family reaches pact on succession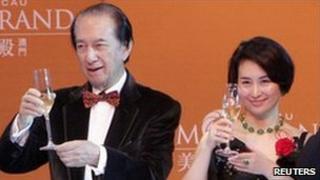 Shares in gambling magnate Stanley Ho's SJM Holdings surged by 8% in Hong Kong on the news that the company's succession dispute had been settled.
Mr Ho, the chairman of SJM holdings, said he had resolved the legal tussle over the division of his empire with his family.
The billionaire said he had filed a note of discontinuance, dismissing a legal case against family members.
SJM holdings is the largest casino operator in Macau.
Shares in the company had tumbled by almost 26% since the dispute became public amid claims and counter-claims by various members of the family.
The company did not mention if there had been any decision on exactly how the empire will be divided.
The casino operator is expected to announce its earnings next week.