US trade deficit figure causes concern for investors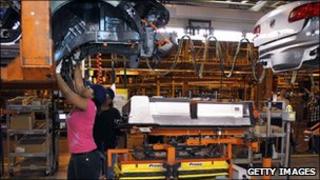 US stockmarkets have fallen after figures showed the US trade deficit had widened much more than expected in January.
The US Commerce Department said the deficit had widened to $46.3bn (£28.8bn).
The 15% increase caused concern amongst investors and shares on Wall Street fell.
In early trading the Dow Jones was down 1.87% at 11,984 points and the broader S&P was down 1.89% at 1,295.
A widening deficit, with a rising number of imports, is a sign that consumers and businesses are spending more.
However it also means that more of that money is going overseas, thereby reducing future US economic growth.
Analysts blamed demand for foreign cars and the surging price of oil for pushing up imports.
US exports rose 2.7% to an all-time high of $167.7bn but imports rose to $214bn.
China surprise
Earlier, Chinese government data showed a surprise trade deficit for the first time since March last year.
Exports grew at 2.4% in February from the same month a year ago.
Imports on the other hand increased by 19.4%, resulting in a trade deficit of $7.3bn, the largest in seven years.
That announcement had also affected markets in Europe and Asia.
The Nikkei ended the day down 1.46% and London and Frankfurt closed down 1.5% and 0.9% respectively.