Microsoft Kinect 'fastest-selling device on record'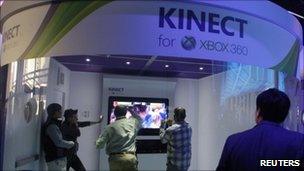 Microsoft has sold more than 10 million Kinect sensor systems since launch on 4 November, and - according to Guinness World Records - is the fastest-selling consumer electronics device on record.
The sales figures outstrip those of both Apple's iPhone and iPad when launched, Guinness said.
Kinect is an infrared camera add-on for Microsoft's Xbox 360 games console that allows it to track body movements.
The success of Kinect has also helped to drive games sales, Microsoft said.
More than 10 million games have been sold worldwide to date, it added.
Gaz Davies, editor of Guinness World Records 2011 Gamer's Edition, said: "We can confirm that no other consumer electronics device sold faster within a 60-day time span, an incredible achievement considering the strength of the sector."
Guinness World Records said that Microsoft sold eight million devices between 4 November last year and 3 January at an average rate of 133,333 a day.
Despite the strong sales of Kinect, in January Microsoft reported profits of $6.63bn (£4.1bn) for the last three months of 2010, down from $6.66bn a year earlier.
Related Internet Links
The BBC is not responsible for the content of external sites.