Ivory Coast crisis: Cocoa embargo hurting small farmers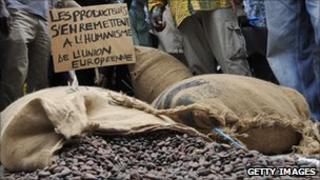 Much of the world has agreed not to buy cocoa from Ivory Coast until Laurent Gbagbo hands over power to Alassane Ouattara, widely recognised as the winner of the November 2010 presidential election.
The European Union (EU) and the US in particular heeded a call from Mr Ouattara not to purchase cocoa, and a ban came into force in January 2011.
The aim of the embargo is to deprive Mr Gbagbo of the funds he needs to pay the military who are keeping him in office.
Until now, it does not seem to have been much of a deterrent for Mr Gbagbo, but the embargo is inflicting hardship on other people.
First there are the exporters, who see the cocoa they have in warehouses possibly deteriorating to the stage whereby it would be difficult to sell the beans.
The stored beans are currently valued at $1.8bn (£1.1bn) and represent a third of the country's annual crop.
And then there are the farmers themselves, small-scale producers who depend entirely on the harvesting of cocoa beans for a living.
Government help sought
Reports say that Mr Gbagbo has privatised the cocoa sector - a move described by France as "plundering Ivory Coast's strategic cocoa and coffee industries" and which the US has declared as "cocoa theft".
But Christophe Duka, head of the Cocoa Growers' Association and a small-time grower himself, disagrees with such assumptions.
"It is us, the private farmers, who have asked the president to buy our cocoa - this was not an initiative of the government," he insists.
"All we want is that our cocoa is sold and that we get a good price for it," he says, whilst mentioning that under previous president Felix Houphouet-Boigny, who died in 1993, the sector was nationalised and that the system worked very well.
"Even though some companies would like to buy our cocoa, they are not doing so because they are afraid of the EU," he says.
"It isn't that they don't want to, they are afraid to," he adds.
When it is suggested that the cocoa, which is unable to leave by Ivory Coast's ports because of the sanctions, is exported through neighbouring countries, he says the cost of transport and the high port fees would become too exorbitant for the farmers.
Lost earnings
There is great consternation about the embargo, which Mr Duka describes as a political move which is not affecting Mr Gbagbo directly.
"It is a political problem and we are not involved in politics. They are mixing politics with the economy," he bemoans.
"The embargo is impoverishing us," he says, "Because of the embargo, we don't have any money to send out children to school, or to look after them."
He says ordinary farmers are asking Europe to lift the embargo.
"We are not able to work, we have so wages," he explains.
"Without selling the cocoa we cannot feed our families. Europe is stopping us selling our cocoa. We think it is an unjust situation."
Pauline Bax, a reporter in Ivory Coast, believes most growers simply want to be paid.
"This move seems to be partly motivated by Mr Gbagbo to get more people behind him," she says.
The farmers have not been able to sell their cocoa and they must be increasingly desperate for money
"They don't usually have any money in reserve," she says, "It is fair to say that the farmers, at this point in the crisis, don't care who they sell their cocoa to."
Who are the customers?
People question where Mr Gbagbo is getting the money from to buy this crop.
Then there is the question of who will actually buy it.
Because of the sanctions imposed by the EU, neither European nor US companies can buy cocoa from Ivory Coast.
"He will probably have to look towards China," says Ms Bax.
China has small importing capabilities to process the cocoa to cocoa butter, but it is still unlikely Mr Gbagbo can ship all his cocoa to China.
"China doesn't really need the cocoa because the Chinese are not big consumers of chocolate - unlike Europe which relies on Africa for cocoa, so eventually the Europeans will need the cocoa from Ivory Coast," she says.
Awkward choice
Whilst there is a genuine dilemma for international policymakers who want to see a resolution to the political impasse in Ivory Coast, the situation is probably playing right into the hands of Mr Gbagbo, according to Mike Davis of the human rights group Global Witness.
Although cocoa growers and exporters are advised not to succumb to the extraordinary requests for money - in the form of taxes - in reality they have little option but to comply when supporters of Mr Gbagbo call round.
"Mr Gbagbo probably likes the thought of cocoa farmers being held hostage," he says. "It increases his bargaining power."