Morrisons to launch online shopping service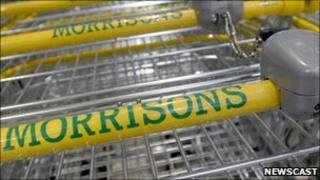 Supermarket group Morrisons has announced plans to launch an online shopping service in the next two years.
Morrisons is the UK's fourth-largest supermarket, after Tesco, Asda and Sainsbury's, and is the only one of the four without a major online business.
The news came as it reported annual pre-tax profits of £874m, up from £858m the year before.
Morrisons also said it was set to trial new convenience stores, and announced plans for a £1bn share buy-back.
During the 12 months to the end of January, like-for-like sales, excluding fuel and VAT, rose 0.9%.
Cautious outlook
As Morrisons continues to carry out research into e-commerce, it also announced a £32m investment in US internet grocer FreshDirect, which will see it take a 10% stake in the firm.
"They are leaders in fresh food online and they do it profitably," chief executive Dalton Philips told the BBC.
This marked its second e-commerce investment in as many months, after February's acquisition of baby goods website Kiddicare for £70m.
Morrisons also said it was exploring the idea of opening convenience stores, with plans to open three trial stores this year.
In addition, the group said it would return £1bn to shareholders over two years and was committed to double-digit dividend growth over the next three years.
But it also said in a statement: "We expect the economic backdrop to remain challenging in 2011, with higher taxes, government spending cuts, inflation and rising unemployment all continuing to weigh on consumer confidence and disposable incomes."