Galleon insider-trading trial hears opening statements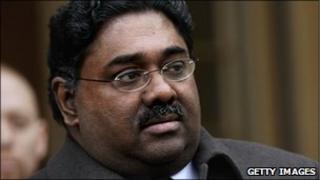 Opening statements have been made in the trial of hedge fund manager and former billionaire Raj Rajaratnam on insider trading charges.
Mr Rajaratnam is accused of making millions of dollars after getting tips from some of Wall Street's top names.
US attorney Jonathan Streeter said the case was all about "greed and corruption".
Defense lawyer John Dowd said the government was wrong and his client had done only legitimate stock research.
News today?
Mr Rajaratnam's lawyers say that the government has significantly broadened its definition of insider trading.
The US government has made insider trading probes into the hedge fund industry a priority, and the Rajaratnam prosecution is seen as an important case.
Assistant US Attorney Jonathan Streeter claimed that Mr Rajaratnam often knew "tomorrow's business news today".
On Wednesday the final 12 jurors, plus six alternates, were selected from a pool of about 150 people.
Mr Rajaratnam has pleaded not guilty to the charges. The case may last up to two months.