Biden urges Russia to tackle corruption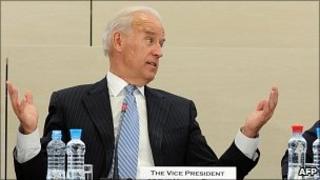 Russia needs to fight "endemic corruption", implement the rule of law and improve the investment climate, US Vice President Joe Biden has said.
"Investors are looking for assurances that the legal system treats them fairly and acts on their concerns swiftly," said Mr Biden.
He also said that the US "strongly supported" Russia's accession to the World Trade Organization (WTO).
Russia has been in talks to join the WTO since the mid-1990s.
"We are making real progress," said Mr Biden at the Skolkovo business school near Moscow.
The US is one of the last remaining WTO members whom Russia needs to complete talks with.
Russia's First Deputy Prime Minister Igor Shuvalov said that he hoped that his country could join the WTO in 2011.
"We understand that the political success of this [...] depends to a large extent on the US administration," said Mr Shuvalov, who is leading the WTO talks for Russia.
New planes
As a part of Mr Biden's visit to Russia, Russian airline Aeroflot signed an agreement to buy eight Boeing 777 planes.
"We intend to use these planes together with the SkyTeam alliance to service international destinations during the 2014 Olympic Games in Sochi and the 2018 World Cup," Aeroflot said in a statement.
The cost of the deal was not announced.