RBS chief Stephen Hester gets £7.7m pay package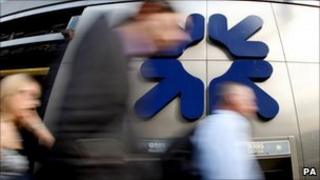 Royal Bank of Scotland chief executive Stephen Hester has been awarded a pay package currently worth £7.7m for 2010.
That includes £6.5m worth of shares that won't be available for three years. Two-thirds of these are pegged to meeting management targets.
It also includes his £1.2m salary, which has remained the same since he replaced Sir Fred Goodwin in 2008.
RBS made a loss of more than £1bn last year, and is 83%-owned by the UK government.
Under the Long-Term Incentive Plan (LTIP), Stephen Hester is to be awarded 10.1m shares, which are valued at £4.5m at the current share price.
That element can be clawed back, and is dependent on achieving certain targets.
If the share price increases from 45 pence, and above the government's break-even point of 50p, then Mr Hester and others on the LTIP will benefit from that increase when they are allowed to sell the majority of the newly-awarded shares in March 2014.
Last year, he declined to take an annual bonus, but did receive 8.5m shares under the LTIP.
That was approved by shareholders - notably including the government's representative, UK Financial Investments - at last year's annual general meeting, but it is understood no such approval will be required for LTIP awards this year.
The announcement on executive pay is normally included in the company's annual report, which is to be published by RBS next week.
That will complete the picture on senior executive pay, with a relatively small award of bonds to senior staff.
It is understood it will also include details on the top five earners at the Royal Bank, and for senior executives, other than traders, with the most significant responsibilities.
A spokeswoman for RBS commented on the awards: "These awards follow exhaustive consultation with our shareholders and we believe they appropriately balance demonstrating restraint while remaining fully supportive of our leadership through the RBS turnaround plan."
Last week, its rival for investment bank business, Barclays, announced an award for its new chief executive, Bob Diamond, which was valued at £9m, but on a different basis.
If the current share value is used to calculate the Barclays' chief's award, it is reckoned to rise above £13m.