Credit and debit card fraud 'falls to 10-year low'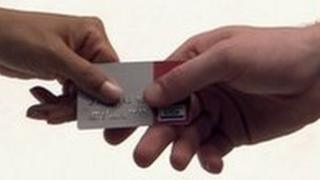 Fraud losses on UK credit and debit cards fell to the lowest level for a decade in 2010 as awareness of the issue increased.
The amount lost still reached £365.4m, but this was 17% lower than the previous year, the UK Cards Association said.
The biggest drop was in the amount lost through cloned or skimmed cards, which fell by 41%.
But the amount lost through cards being intercepted in the mail was up 22%.
Security
Total losses hit a peak at £610m in 2008, but have now fallen for two successive years.
The fall in the total amount lost to UK cardholders was the result of more fraud detection tools used by banks and shops, as well as the continued increase in chip-and-pin use, the association said.
Awareness from consumers and retailers on how to protect themselves from fraudsters also increased.
Within the results, there was a 15% drop in the amount lost when fraudsters used card details to buy items on the telephone, internet or by mail order.
Identity theft losses were relatively unchanged and, despite a 21% rise in the number of phishing attacks, the money lost to online banking fraud was down 22%.
Detective Chief Inspector Paul Barnard is head of the Dedicated Cheque and Plastic Crime Unit, which is a specialist police unit sponsored by the industry.
"While another drop in fraud is good news, the fraudsters have not shut up shop which is why there can be no room for complacency on the part of the banking industry, retailers, law enforcement or indeed customers themselves," he said.
"By taking simple steps, such as shielding our Pin with our free hand whenever we enter it, particularly at cash machines, being wary of unsolicited e-mails or calls, and making sure that our computers have regularly updated anti-virus software in place, we can make life harder for the criminals."
Melanie Johnson, who chairs the UK Cards Association, said: "The cards industry is greatly encouraged by the major decrease in card fraud losses for a second successive year, but we will not be easing off our efforts as a result.
"It is essential to us that customers feel safe and secure when they use their cards and we will continue to invest in a wide range of fraud prevention initiatives to keep it this way."