Audi profits double on strong China and US sales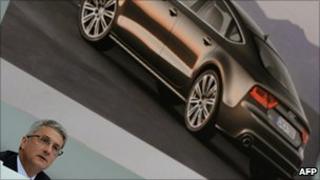 German carmaker Audi has reported a sharp rise in profits for 2010 thanks in part to a strong growth in sales of luxury cars in China and the US.
Net profit for the year came in at 2.59bn euros ($3.61bn; £2.23bn), up by 50% on the 1.3bn euros the firm made in 2009. Revenue rose 19% to 35.4bn euros.
The carmaker was also upbeat about its prospects for 2011.
Audi is the world's third biggest luxury carmaker behind German rivals BMW and Mercedes.
The company wants to increase sales by 10% this year to 1.2 million as it aims to topple BMW as the world's leading luxury carmaker.
"We want to grow in 2011 too," said chief executive Rupert Stadler. "The prospects for 2011 are good."
As well as continuing growth in China and the US, Audi said it wanted to expand further into emerging markets such as India and Russia.
Audi is one of a number of brands owned by Volkswagen, which itself has said it wants to overtake Toyota as the world's biggest carmaker.