Subway overtakes McDonald's as biggest restaurant chain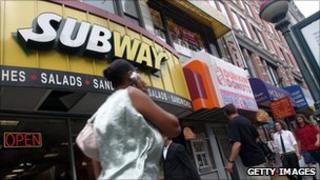 Sandwich group Subway has overtaken McDonald's as the world's largest restaurant chain, the company has said.
Subway had 33,749 sites across the globe at the end of last year, compared with 32,737 for McDonald's.
In recent years, US-based Subway has made a major push into international markets with its successful franchised business model, which emphasises small, low-cost outlets.
The privately-owned company said it had been "on a great run".
McDonald's said it was still growing but was committed to "being better, not just bigger".
Subway, established in 1965, has restaurants in 95 countries.
McDonald's has restaurants in 117 countries around the world and employs 1.7 million people. More than 75% of its restaurants are franchised.
McDonald's made a profit of $1.24bn (£765m) in the final three months of last year on revenues of $6.2bn.