Private jets to soar in Asian skies on Chinese demand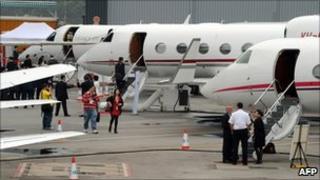 Hong Kong boasts one of Asia's longest histories in private aviation with its first Flying Club established in December 1929.
Today, its Business Aviation Centre, in a corner of Chek Lap Kok airport, is one of the region's busiest.
More than 4,000 private jets arrive and leave from this exclusive terminal every year.
The charter company Asia Jet operates five aircraft from there. Three more planes are on order. It offers exclusive trips to the region's wealthy elite.
A weekend trip for you and a handful of friends or colleagues to Beijing from Hong Kong costs $51,000. Fancy a getaway to Maldives? That will be $120,000, please.
Despite the premium price, more people in the region can afford these trips.
"There is a lot of activity, especially coming from China," says the company's chief executive, Mike Walsh.
"Their appetite for the best, the newest and the largest is here and they want to fly, not just regionally, but directly to the US and Europe.
"China accounts for 40% of our business now, but as we open our second hub in Shanghai, we expect that to grow to 60 to 70%."
Million dollar shopping
Renting a private jet is much cheaper than buying your own plane.
Gulfstream is the leading manufacturer of private jets. Its 14-seater G450, which we flew in, costs $38.25m.
Yet, the company is also seeing its sales increasing in the region.
"Gulfstream's fleet in Hong Kong and mainland China is growing rapidly," says Roger Sperry, the company's regional senior vice-president of international sales.
There are 30 Gulfstream aircraft in mainland China and another 28 based in Hong Kong. Two-thirds are long-range models.
China is estimated to have 200 privately owned aeroplanes in total, far fewer than the US, where there are more than 200,000 of them.
This is because China is a relative newcomer to the market. Until May 2003, private individuals and companies could not own their own planes.
But as the number of millionaires and billionaires rises in China, Gulfstream is betting on private flying taking off.
"As China's economy continues to grow, Chinese business leaders and entrepreneurs will soon recognise the advantages provided by the business-aviation industry," Mr Sperry says.
Triple whammy
Buying and operating a private jet in China or Kong Kong, however, remains complicated.
It is a triple whammy of obtaining a pilot's licence, registering the plane and then getting approval for every flight over the mainland from the country's military-operated air traffic control, all of which take much longer in China than in other countries.
The government recognises the importance of this growing market. In its 12th Five-Year Plan for 2011 to 2015, it said for the first time that it would promote the private aviation industry.
That will include building 45 new airports at a cost of around 1.5 trillion yuan ($227bn).
"China definitely has made commitments to enhance its existing business-aviation infrastructure and as more and more people recognise the value of business aviation, we do believe the rules will continue to change," Mr Sperry adds.
Crowded skies
At Hong Kong Business Aviation Centre, there are more private jets than places to park them.
"There are 33 permanently registered jets for 19 slots," says Asia Jet's Mr Walsh.
There is also a limited number of take-off and landing slots each hour.
Even billionaires must wait for their turn, as priority is given to scheduled flights.
China's commercial aviation industry is also growing fast.
The number of passenger trips rose by 15.8% in 2010. The Civil Aviation Administration of China predicts there could be 500 million individual journeys by 2015.
Messy congestion
Hong Kong is one of the five airports in the Pearl River Delta, along with Guangdong, Shenzhen, Macau and Zhuhai.
But there are three separate air traffic control systems, which tends to make congestion worse.
Giovanni Bisignani, CEO of the International Air Transport Association has ranked the congestion here among the top three global air traffic control problems that need to be fixed, along with the Single European Sky and NextGen in the US.
At the moment, Hong Kong airport can cope with one landing or take-off every 60 seconds.
The Civil Aviation Department plans to shave two seconds off that gap this year and get it down to 53 seconds between planes by 2015.
The IATA says that in order to cram in even more arrivals and departures, Hong Kong will need a third runway.
Mr Walsh of Asia Jet says that once these roadblocks are removed, the sky will be the limit for the sector's growth.
"The future is very bright, but those issues and some tax issues, if they were to go away, that'd be great," he said.
"I think they are looking at it very seriously now, which would help us to grow exponentially in the next few years," Mr Walsh adds.