Mazda chief looks to reinvent the brand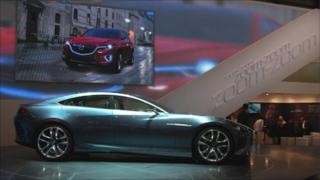 Futuristic in their design and overwhelmingly different from other models on the Mazda stand, a sleek coupe and a rather butch crossover vehicle are turning heads at the Geneva motor show.
Eye-catching concept vehicles are everywhere at the show, although these Mazdas are more than just experimental cars.
Instead, they offer clear indications of where the Japanese carmaker is heading next.
The move follows financial difficulties over the last couple of years that caused Ford Motor to sell most of its stake in the company, thus ending an alliance that had survived for more than three decades.
"You can look forward to something quite similar going into production," says Mazda Motor's chief executive, Takashi Yamanouchi, proudly pointing to the podium.
"Five years from now, about 80% of our sales will be products that embrace this approach."
New model line-up
Mazda has come up with a radical plan to reinvent itself completely.
Over the next five years, the firm will replace its entire model range with new cars, based on a design language that will be radically different from what is on offer today.
All of them will use a newly developed body and chassis architecture that uses lighter materials, as well as more frugal engines and transmissions.
The aim is to deliver on a promise made in 2007 to make a 30% cut in Mazda's CO2 emissions by 2015.
"No other company has so specifically set out such objectives," insists Mr Yamanouchi.
"I believe we are far better than the industry average. We believe we will be best in class on CO2 and fuel economy."
Overall CO2 reductions
Central to Mazda's idea are its efforts to focus on conventional engine technologies.
The carmaker wants to make all its vehicles benefit from technology improvements - "rather than just a small proportion of customers, as is the case at other rivals," Mr Yamanouchi says.
This is clearly a dig at those car companies, particularly Toyota, which offer petrol-electric hybrid alternatives to customers with deep pockets, while selling less efficient, cheaper conventional models to the masses.
"We believe that is the best approach to reduce CO2 emissions in their entirety for society," he says.
Plunging profits
Mazda's model onslaught is funded by 100bn yen ($1.2bn; £745m) that was raised by the company in 2009.
"All this money has been spent to develop efficient technologies, both on the engineering and on the manufacturing side," says Mr Yamanouchi.
The hope is that with new cars in the showrooms, Mazda will bounce back from a slump in sales in 2009 when the collapse of Lehman Brothers sparked a global financial crisis.
During the previous year, Mazda's operating profits topped 162bn yen, pushing its operating margin towards 6%. In 2009, the company made an operating loss of more than 28bn yen.
Last year, Mazda climbed back into the black, though only just, and this year will be weak as well, with operating earnings expected to come in at 1.1bn yen.
To ensure stronger profit growth, sales volumes will need to recover from the current volume of about 1.2 million cars per year.
"Our plan is to increase our volume to about 1.7 million cars per year by 2016 [and] I believe we will get back to three million eventually," Mr Yamanouchi says.
He also wants operating profits to exceed the 2008 peak by 2016.
Emerging markets
On top of the predicted growth in sales which Mazda hopes will come in markets where it is already operating, such as China and the US, there should be an additional boost to its earnings from new emerging markets, where it does not have a presence yet.
"We're not aiming to satisfy every customer in the market as we don't have the line-up of models," Mr Yamanouchi says.
Moreover, the company will not immediately build its presence in every large emerging market - namely Brazil, Russia and India.
"Because of our size, we can't enter all these markets at the same time, he says.
But gradually, Mazda will both start selling and manufacturing cars in these three huge economies.
Local production should help the company both overcome the strong yen and meet the growing demand in these markets, Mr Yamanouchi reasons.
Ford ally
When expanding into new markets, Mazda will try to build on its still-strong relationship with Ford.
"We haven't really parted from Ford," says Mr Yamanouchi.
"Due to Ford's own circumstances, they reduced their stake in Mazda, but we have an agreement to remain strategic partners.
"We both consider the relationship mutually beneficial. In emerging markets, the first thing we look at is whether we can co-operate with Ford."
With the exception of institutional investors, Ford remains Mazda's biggest shareholder with a 3% stake, Mr Yamanouchi points out.
"People tend to focus on the result of Ford reducing its stake in Mazda, but they should instead focus on the result of Ford retaining a stake."
It seems clear that Mazda's chief is enjoying the company's new-found independence from Ford.
But like a teenager leaving home, he also knows that there are times when calling home for help is the right thing to do.