Cyber attack on France targeted Paris G20 files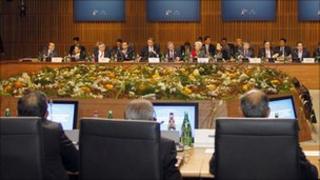 The French finance ministry has confirmed it came under a cyber attack in December that targeted files on the G20 summit held in Paris in February.
Budget Minister Francois Baroin said an investigation had been launched, adding: "We have leads".
It follows a report in Paris Match magazine that claimed a sustained cyber attack sought documents related to the G20 and international economic affairs.
More than 150 of the ministry's 170,000 computers were affected.
'Determined professionals'
"We noted that a certain amount of the information was redirected to Chinese sites," an anonymous official was quoted by the French magazine. "But that [in itself] does not say very much."
An official complaint has been filed with French courts, and the matter has been taken up by the secret service.
The perpetrators were "a number of professional, determined and persistent hackers", according to Patrick Pailloux, director general of the French National Agency for IT Security, who confirmed that they had obtained sensitive information.
"It is the first attack of this size and scale against the French state."
The summit agreed a list of targets for reducing imbalances in the global economy in order to head off future financial crises.
The topic was particularly contentious for the Chinese, who resisted calls to target exchange rate valuations, currency reserves and economic surpluses.
The US and other countries accuse China of buying up trillions of dollars in foreign reserves in order to hold down the value of the yuan and gain an unfair competitive advantage in trade.