Bangladesh resumes Grameen's Yunus court hearing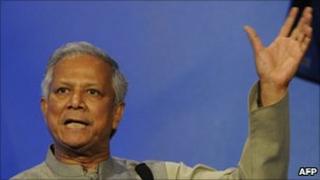 Bangladesh's High Court has resumed its hearing into whether Nobel Laureate Muhammad Yunus was illegally fired from the microfinance bank he founded.
On Sunday Mr Yunus's lawyers laid out their case before the court.
Last week the central bank sacked him, saying he was past retirement age and had been improperly appointed.
Grameen bank gives small loans to millions of borrowers. Analysts say the effort to remove him is the culmination of a long feud with the government.
Attorney General Mahbubi Alam said the court was likely to give its ruling on Monday, the Associated Press news agency reported.
Politically motivated?
During Sunday's hearing, lawyers for Mr Yunus argued that the central bank did not have the power to remove Grameen Bank employees.
The central bank, also known as Bangladesh Bank, has claimed that Mr Yunus did not get its approval when he was re-appointed director in 2000.
As a result, he is holding the position illegally.
However, some of Mr Yunus supporters say that his dismissal was politically motivated.
Mr Yunus has spoken out against the current government, lead by Prime Minister Sheikh Hasina.
In 2007 he attempted to form his own political party.
The Prime Minister has accused the Grameen Bank and other microfinance institutions of charging high interest rates and taking advantage of the poor.